Northland Refrigerator Repair Service
Premium Refrigerator Repair specializes in the service and repair of high-quality brands such as Northland Refrigerator Repair.
CALL US NOW IF YOU ARE HAVING ISSUES WITH YOUR NORTHLAND REFRIGERATOR! We are open 24/7.
202.688.5012
703.799.2211
301-670-0019
You rely heavily on the convenience afforded you by your Northland refrigerator, so when even a small problem seems to be cropping up, it's important to have it addressed as quickly as possible – before it turns into a much larger and expensive issue.
If you suspect problems with your Northland fridge, don't delay – call Premium Refrigerator Repair as soon as possible. We offer professional Northland refrigerator repair service inspection and repair services in homes all over in Virginia, Maryland and the greater Washington D.C. area and also we're always happy to help another one of our neighbors get their fridge functioning as it should be once again.
Northland Refrigerator Problems
There are quite a few issues that might arise in a broken or worn Northland refrigerator – some of them subtle and others very obvious. However, each of them should be taken just as seriously because even a small problem can turn into a major issue if it isn't dealt with immediately.
Some of the most common refrigerator problems are related to the compressor and motor assembly in the back of the appliance. Your Northland refrigerator operates by compressing refrigerant gas to a high degree and then circulating it through the unit. When that super compressed gas reaches the evaporator coil, it expands rapidly, drawing heat from your fridge and freezer units to cool it. If the compressor isn't working properly, not enough heat will be drawn away and your food won't stay cold.
Thermostat issues are also common refrigerator problems. A broken thermostat can result in frozen food in your refrigerator unit or condensation on the outside of your fridge. In either case, your appliance should be inspected and repaired as quickly as possible.
Northland Refrigerator Service Experts
A minor problem with your Northland fridge could persist for weeks on end, seeming to just be a bit of an inconvenience but it will almost certainly result in more expensive repairs down the road if not dealt with quickly. There's no way to know how serious the problem is until you call the professionals of Northland refrigerator repair service trusted by more homeowners in Arlington, Virginia, Rockville, MD and the Washington DC surrounding areas – Premium Refrigrator Repair services. We'll come out to your home, investigate the problem and make any necessary repairs as quickly as possible.
CALL US TODAY FOR A NORTHLAND REFRIGERATOR SERVICE. WE ARE OPEN 24/7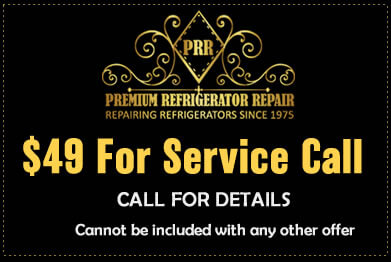 REQUEST A SERVICE CALL FROM A CERTIFIED TECHNICIAN NOW!
WHY CHOOSE US?
FACTORY TRAINED TECHNICIANS

OVER 30 YEARS OF EXPERIENCE

FULLY LICENSED AND INSURED

PROMPT, EFFICIENT SERVICE